In my almost fourteen years of existence, I have yet to meet a baseball fan that would not like to have their Hall of Fame stance heard. After all, who wouldn't like to be one of the few members of the Baseball Writers Association of America who receive a Hall of Fame ballot every year? As for me? I would personally love to do so and it would give me something to look forward to every year. Unfortunately, I do not have a vote, so the next best thing is to share my thoughts on the ballot with all of the awesome readers of Doubleday Double Talk.
In the 2017 National Baseball Hall of Fame election, Tim Raines, Jeff Bagwell, Ivan "Pudge" Rodriguez, Bud Selig, and John Schuerholz were cemented in baseball lore as Hall of Famers. Only 319 people have ever earned the distinction through hard work and dedication to their craft. So it is now time to consider who else is worthy of having the privilege to stand up at the podium in Cooperstown and give an induction speech to the entire baseball world.
Before I go over who I believe is worthy of being included in baseball's most exclusive club, let's go over a few of the general rules of the voting (Rules attained via National Baseball Hall of Fame website).
"An elector will vote for no more than ten (10) eligible candidates deemed worthy of election. Write-in votes are not permitted."
"No automatic elections based on performances such as a batting average of .400 or more for one (1) year, pitching a perfect game or similar outstanding achievement shall be permitted."
"Voting shall be based upon the player's record, playing ability, integrity, sportsmanship, character, and contributions to the team(s) on which the player played."
I would like to specify before I begin my list, that this is MY ballot and I will be voting based on who I believe should or should not be elected to the Hall. I would enjoy hearing your opinion on the matter, since many baseball writers and fans may reasonably differ on this topic, which of course makes this article a fun one.
Who I'd Vote For
These are the players that I would put a checkmark next to on my ballot. I fell that these 7 players are deserving of my vote and they should be given serious consideration by all Baseball Writers Association of America members as Hall of Famers.
Chipper Jones
Much like Ken Griffey Jr. in 2016, Chipper Jones is an obvious First Ballot Hall of Famer and will get in without much difficulty. In his career, Jones compiled a slash line of .303/.401/.529 with 549 doubles and 468 home runs. He also finished his career with more walks than strikeouts, an 85 WAR, 1,623 RBI, 1,619 runs, an MVP Award in 1999, a batting title, all while leading the Braves to 11 division titles, three pennants, and a World Series Championship in 1995. In addition to these impressive stats, Jones had the 3rd most home runs in history for a switch hitter.
Third Base is the least-represented position in the Hall with just 16 third baseman with plaques in Cooperstown. However, Chipper Jones is arguably one of the top 5 greatest third basemen in baseball history and should have very little difficulty becoming a First Ballot Hall of Famer.
Jim Thome
Jim Thome was one of the greatest and most feared power hitters in baseball history. His Hall of fame stats? 612 home runs (8th all-time), 72.9 WAR, 1583 runs, 2,328 hits, 1,699 RBI, and a .956 OPS. Thome hit 30 or more home runs in 13 of his 22 years in the Majors while compiling 1,747 Walks and 147 OPS+ during his career.
Thome was a five-time All-Star and led the Cleveland Indians to 2 World Series appearances in 1995 and 1997. Also, unlike three of his contemporaries in the 600 home run club (Alex Rodriguez, Barry Bonds, and Sammy Sosa), Thome was never linked to steroids or any performance enhancer at any point of his career.
Thome may lose a few votes here and there for "playing too long" in a desperate attempt to hit 600 home runs, but there is no way that that should keep him out of the Hall of Fame on the first ballot. Jim Thome should receive just North of 90% of the votes.
Vladimir Guerrero
Vladimir Guererro was one of two players last year to get at least 70% of the votes and not get elected into the Hall of Fame in the 2017 election. Guerrero (71.7%) and ex-closer Trevor Hoffman (74.0%) missed out on being enshrined in bronze by 15 and 5 votes respectively and are almost guaranteed to be elected.
Guerrero slugged 449 home runs in his 16-year career, with a .318 batting average, 1496 RBI, .931 OPS, with 2598 hits with a 59.3 WAR. From an award standpoint, Guerrero was selected to play in 9 All-Star Games, won 8 Silver Sluggers, and an MVP award in 2004. All of this, not to mention Guerrero's cannon for an arm and ability to hit any pitch thrown to him.
Guererro just barely missed out on enshrinement last year and should be a lock this year.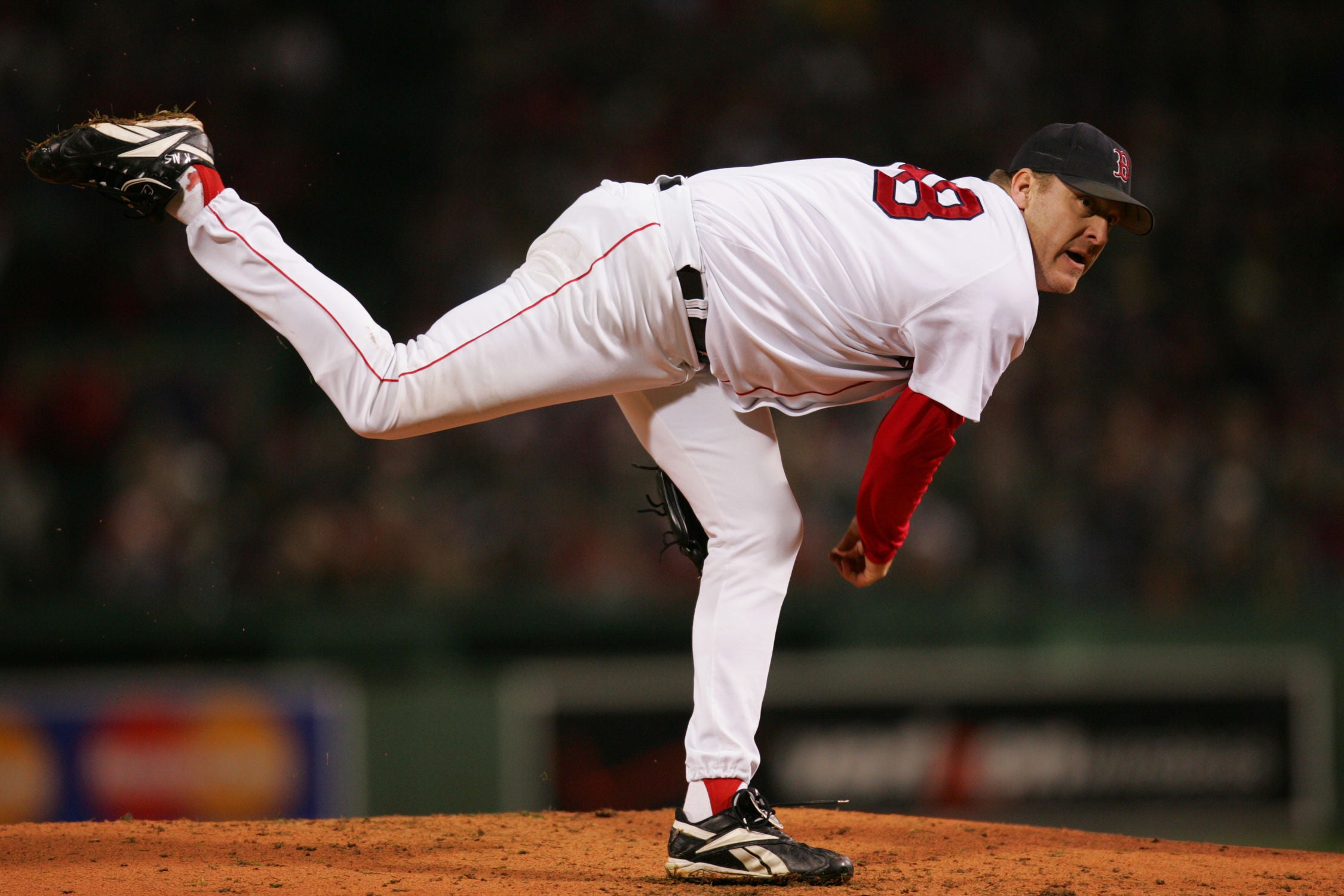 Curt Shilling
Curt Shilling is an obvious Hall of Famer with great regular season numbers and a Postseason resume that is nothing short of legendary. It must also be emphasized what a sentimental and emotional favorite this player has been. Can we mention Shilling without thinking about the bloody sock? Even a hardened baseball writer must feel a little tug when thinking about the grit of this player and the memories he gave us during his baseball career.
In his 20-year career, Curt Shilling put together a win-loss record of 216-146, with a 3.46 ERA (while pitching in the Steroid Era), 3116 Strikeouts (15th All-Time), along with a 79.9 WAR and a 1.137 WHIP. Shilling was also a 6 time All-Star with four Top 5 Cy Young Finishes, a 3 time World Series Champion (Arizona Diamondbacks 2001, Boston Red Sox 2004, Boston Red Sox 2007) while taking home an NLCS MVP and sharing a World Series MVP with Randy Johnson in 2001. In addition, Shilling has the best career strikeout/walk ratio in MLB history (4.4). Enough said?
Edgar Martinez
Edgar Martinez is arguably the greatest DH of all-time and should have been in the Hall of Fame a long time ago. The fact that he has stayed on the ballot for eight years absolutely amazes me. There has never been a Designated Hitter in the Hall of Fame and if I had a Hall of Fame vote, I would not hesitate to fill in the box next to Martinez's name.
Martinez hit 309 home runs in his career, with 514 doubles, a .312 batting average, 2247 hits, 1261 RBI, and a 68.3 WAR. Gar was also a 7-time All-Star, with 5 Silver Sluggers and 2 batting titles to accompany his Hall of Fame worthy resume. It is the only the "Purist" argument that really keeps Edgar Martinez from joining the Hall of Fame.
Martinez's 147 OPS+ is also tied with Hall of Fame players, Mike Schmidt, Willie Stargell, and Willie McCovey, while his .933 OPS is 33rd in baseball history. In addition, 60 players in MLB history have hit 500+ career doubles, Martinez did it in the least amount of at-bats with 514 in 7213 games. In addition, only 5 players in baseball history have hit 500+ doubles in less than 7700 at-bats. Baseball purists may disagree with me, but in my book, Martinez is a Hall of Famer. Also, you can see what other Major League Baseball greats have to say on Martinez's case HERE.
Trevor Hoffman
Trevor Hoffman missed out on being elected to the Hall of Fame by a mere 5 votes. That's right, if 5 of the writers who had not voted for Hoffman in 2017 did vote for him, his name would not be on this list.
Trevor Hoffman was the first pitcher to ever compile 600+ career saves, a number that was unheard of for closers at the time. That one stat alone gives him a great case. Hoffman was arguably the second greatest closer of all time behind surefire Hall of Famer Mariano Rivira but does not get nearly as much attention as he deserves.
In addition to 600+ Saves, Trevor also was selected to play in 7 All-Star Games, had two top 2 Cy Young Award finishes and finished in the top 30 in 3 MVP races. Hoffman accumulated 1133 strikeouts with a 1.058 WHIP, and an ERA of 2.87 in 1089.1 total innings pitched. The only thing that sets Rivera and Hoffman apart is Rivera's Postseason experience and the superstardom that comes with being a Yankee. No one should be kept out of the hall because they play for a mediocre team such as the Padres.
Fred McGriff
It is a crying shame that Fred McGriff is not in the Hall of Fame or even given much consideration. McGriff never was linked to human growth hormones or any other Performance enhancing drugs for that matter and should get a lot more Hall of Fame support than he does.
McGriff hit 493 career home runs which are just 7 long balls shy of the "benchmark" 500. Think about that for a second… if Fred McGriff had hit 7 more home runs, with his lack of steroid allegations, he is a guaranteed Hall of Famer. The fact that he is being kept out of the Hall because he didn't stick around long enough to hit 7 home runs is an absolute travesty. To make his Hall of Fame case even stronger, McGriff had 1550 RBI, .886 OPS, 52.4 War, and 2490 hits in his illustrious career.
Eddie Murray was an obvious first-ballot Hall of Famer while McGriff had a better career OPS, Slugging Percentage, and more 100-RBI seasons than Murray. So what is the difference? 7 home runs? The fact that McGriff is not in the Hall is a disgrace and the BBWAA writers need to get it through their heads that 500 home runs have never been the end all be all.
Jeff Kent
Many of you may disagree with me on this one, but just hear me out. Jeff Kent had a career that was overshadowed by the era in which he played in. Kent was one of the greatest hitting second basemen of all-time and deserves much more credit than he receives.
Jeff Kent leads all Major League second baseman in history with 377 career home runs, with 1,467 RBI (trailing only Hornsby, Lajoie, and Gehringer), 2461 hits, and 55.2 WAR (20th all-time among second baseman). Kent was also impressive from an awards standpoint with an MVP Award in 2000 hitting .334 with 33 homers and a career-high 125 RBI.
Need more? Jeff Kent also had 5 All-Star nods and 4 Silver Sluggers Awards. Kent had much better offensive numbers than Hall of Fame second baseman Craig Biggio, Bobby Doerr, and Joe Gordon, and while he was not as great of a defensive player, I believe he deserves a plaque in Cooperstown.
Mike Mussina
Mike Mussina had a great Major League career and is Hall of Fame worthy in my book. As a matter of fact, you could make a case that Mussina is every bit as good or better (and yes I risk blasphemy here) than Shilling, with his 270-153 Win-Loss record which can be favorably compared to Hall of Famer Jim Palmer.
Many would try to argue that Mussina had an ERA that is far too high for Hall of Fame consideration, but you do have to consider that his career 3.68 ERA is favorable to recent HOF elect Jack Morris. You also have to take into consideration that Mussina was the only pitcher to ever pitch his entire career in the AL East in the Steroid Era, the greatest offensive era ever, and he came out of it with the second most wins trailing steroid user Roger Clemens.
Mussina was a 5-time All-Star, a 7-time Gold Glover while winning 15 or more games in a season 11 times. Mussina also compiled the 24th highest WAR (for a pitcher) in baseball history. So I believe that Mike Mussina is worthy of my vote.
Larry Walker
The term 5-tool-player gets thrown around a little too often these days, but Larry Walker was a true 5-Tool-player. Walker slugged 383 home runs while also stealing 230 bases in his career. Walker compiled a 72.6 career WAR to accompany his .313 batting average, 7 Gold Gloves, 3 Silver Sluggers, 3 Batting Titles, 5 All-Star nods and an MVP Award in 1997. while I have included Larry Walker in my Hall of Fame list, admittedly, he may fall just short of Hall of Fame enshrinement.
Walker has two big factors going against him, the fact that he played a majority of his 17-year long career in Coors Field, and his inability to stay healthy. While I earlier stated that playing on a poor team should not discount a player from Hall of Fame Status, the reasoning is that the players' performance represented by his numbers may have been better with a stronger franchise.  The opposite is true here. There is a widespread belief that playing in Coors field inflates hitter's numbers and pitcher's ERAs. In fact, no Colorado Rockie has ever been inducted into Cooperstown. Unfortunately, this issue will follow and work against Walker.
However, in the last instance, considering his overall career and stats, I would give Larry Walker my vote.
Just Missed:
These are the players that have good Hall of Fame cases and may squeak into the Hall after a few years but would not be on my ballot.
Andruw Jones
Andruw Jones finished a great career with 434 home runs, a 2.54 Batting Average, and 1933 hits. Jones won 10 Gold Gloves in his career, was elected to 5 All-Star Games and won a Silver Slugger Award. While these are great career numbers, and are worthy of mention, they just don't really scream Hall of Fame at you.
While Andruw Jones had a great career, he has very little chance of getting in.
Omar Vizquel
Omar Vizquel was a very consistent hitter and a top-notch fielder for 24 years in the Major Leagues. Visquel collected 2877 hits in his career with a .272 batting average and a 45.3 WAR. Playing 24 years and coming close to the 3,000 mark is impressive.
Visquel was also a defensive gem who won 9 consecutive Gold Gloves from 1993-2002 and a total of 11 Gold Gloves in his career while being given 3 All-Star Game nods. Visquel did hit just 80 home runs in his 24-year career and was never a true power threat. However, home runs are just one of many statistics and do not represent the sole value of a player or requirement to get into the Hall of Fame.
Based on my analysis, I believe we may see him squeaking into the Hall someday in Ozzie Smith fashion.
Scott Rolen
Scott Rolen was a great third baseman back in his playing days who put up consistent offensive numbers as well as having a fantastic glove. Rolen won a Rookie of the Year Award, 8 Gold Glove Awards, one Silver Slugger, was given 7 All-Star nods, and won a World Series with the 2006 St Louis Cardinals. Rolen collected 316 home runs in his career with 2077 hits, 70.0 WAR, and .855 OPS.
Rolen had an excellent Major League Career and he may get in someday, but he just falls short getting on my ballot.
Johnny Damon
Johnny Damon was the model of consistency during his 18-year career in which he had 2769 hits, a .284 batting average, 56.0 WAR, and 235 home runs. Again, the length of this career and proximity to 3000 hits are impressive.
Damon was also a 2-time All-Star with 2 World Series rings (Red Sox 2004, Philidelphia Phillies 2009), and was a fun player to watch during his career. Unfortunately, Damon does not have the Awards or statistics that you would typically see in the Hall of Fame and his case will likely get some support but ultimately fizzle out after a couple of years on the ballot.
Why? While he was definitely a top player making my list, his overall career numbers when compared to the 316 Hall of Famers who made it, just falls a little short.
The Bad Guys 
This group sparks the most controversy of all with the debate of whether steroid users should be in the Hall of Fame or denied entry based upon their decision to use Performance Enhancement Drugs.  So I want to make my opinion on the matter very clear. I do not support any Major League Baseball player that insulted the integrity of the game by taking Performance Enhancing drugs or Human Growth Hormones. Therefore, I would refuse to vote for any of these players and I hope that I will not see any of these players in Cooperstown.
Having stated my opinion, I acknowledge the raging debate for those who champion Barry Bonds, and the rest of the players who gave America's Great Game and reluctantly name these players as Hall of Fame possibilities.
Barry Bonds
Some regard Barry Bonds as the greatest hitter of all-time with 762 home runs (most all-time), 2,935 hits, 2,558 walks (most all-time), 688 intentional walks (most of all-time), and a .298 batting average in 9,847 at-bats. Along with Bonds' record 7 MVP Awards, 8 Gold Gloves, 12 Silver Slugger Awards, and 14 All-Star nods, and the record for most home runs in a single season with 73 in 2001. Bonds is also the only player in history to be part of the 500 home run-500 stolen bases club.
Bonds was destined to go into the Hall of Fame on his first ballot and be known as one of the greatest players ever. There was just one problem, Bonds is connected to Human Growth Hormones and other Performance Enhancing Drugs. Bonds is the poster child of the steroid era and has proved that no matter how good you are, you are never larger than the Game-something Pete Rose found out in his gambling ban.
The game of Baseball, more than any other sport, is tied to statistics. It is a game that measures players against other players, not only in their era but against the Baseball Ghosts of other eras. To use Human Growth Hormones and other Performance Enhancing Drugs throws everything out of balance. How do we measure these players who not only enhance their natural abilities but the very length of their careers? The simple Answer? We can't. They just don't deserve consideration.
Therefore, although Barry Bonds stats say yes, his cheating in the game, just say no.
Roger Clemens
Roger Clemens is basically Barry Bonds in pitcher form. Clemens won an MLB record 7 Cy Young Awards and an MVP in 1986, along with 354 career wins (the most of any non-Hall of Famer), 2 Triple Crowns, 11 All-Star nods, 2 World Series Championships, 7 time ERA Champion, with an All-Star Game MVP. Clemens trails only Nolan Ryan and Randy Johnson in career strikeouts with 4,672 and has 46 career shutouts. Clemens compiled 140.3 WAR after 24 years in the Show.  Roger Clemens always seemed like a lock to enter the Hall on his first ballot.
Alas, it was not meant to be as it was discovered that Clemens used human growth hormone, Deca-Durabolin, Winstrol, Sustanon, and possibly Anadrol, during his career. Therefore, like Barry Bonds, his conduct will likely keep him out of the Hall of Fame forever.
Sammy Sosa
Sammy Sosa had an outstanding Major League career, with a .273 batting average, with 2408 hits, 609 home runs, and 1667 RBI. Sosa was also a 7-time All-Star, a 6-time Silver Slugger, and he won an MVP award in 1998. Sosa became one of the most lovable players in baseball and made it fun to watch again for many fans in his home run race with Mark McGuire and his towering shots that often left Wrigley. He had a lovable signature celebration and he helped bring back baseball fans.
Unfortunately, it all went downhill from there. Sosa was one of 104 players who tested positive for PEDs in 2004, and all of the love and affection that Sosa received went away after he all of a sudden could not speak English during the 2005 Congressional hearing on PEDs in the Majors. Sosa, despite a Hall of Fame resume, will never see his name in bronze due to his use of PEDs. And again I emphasize unfortunately, the answer is no.
Gary Sheffield
Gary Sheffield compiled 509 career home runs which is good enough for 25th All-Time. He is a member of the 500 Home Run Club. Other arguments can and will be made, but Sheffield does not get my vote due to his appearance on the Mitchel Report and the fact that he will forever be linked to PEDs.
Manny Ramirez
Manny Ramirez will never be defined by numbers such as 555 (his career home run total), .996 (his OPS), .312 (his batting average), or 2,574 (hits). He will not be remembered for his number of All-Star Games (12), his Silver Sluggers (9), or World Series Championships (2). No, Ramirez's baseball career will forever be defined by the Number 3, which is the number of PED tests he failed during his career. Like Sosa, despite his fan appeal, and Hall of Fame numbers, he will miss being inducted into the prestigious Hall of Fame due to PED use.
The One And Dones
The one and done are the players that had great Major League Careers but are unfortunately not Hall of Fame worthy. All of these players are deserving of a great deal of respect for their contributions to the game of baseball, but they will not receive much or any Hall of Fame recognition. These players are as follows…
Jason Isringhausen, Chris Carpenter, Carlos Lee, Jamie Moyer, Hideki Matsui, Carlos Zambrano, Brad Lidge, and Kerry Wood.
While these players brought something to the game and flirted with Hall of Fame numbers temporarily, they simply have no way of beating other players mentioned previously in this article.
---
So there you have it! Only 319 baseball players of the thousands who have played, have been honored enough to make the Hall of Fame. It is an exclusive and legendary group. That is why entry is so hollowed. That is why cheaters should not get in.
So with that in mind, these are the players that I would vote for and wouldn't vote for Entry into the Baseball Hall of Fame if I was lucky enough to have a Ballot.
Did I miss anyone? Is anyone in the wrong category? Who would your choices be for the Hall of Fame? I welcome your comments and opinions.