Doubleday Double Talk Remembers is designed to connect fans with the game of baseball's past one player and story at a time. A Doubleday Double Talk Remembers will be published every Friday and will go over the life and legacy of the players from our past, from Babe Ruth to Hank Aaron to Steve Dalkowski to Eddie Gaedel, every player has a story and Daryll Dorman and Giuseppe Vitulli are here to provide you with just that. Sometimes we forget about how important baseball's past is, so Doubleday Double Talk Remembers is simply the writers at Doubleday Double Talk's way to pay homage to the past of the beautiful game of baseball.
Tyrus Raymond Cobb was born in Georgia in 1886 and overcame family tragedy to forge one of the greatest careers in Major League Baseball history.
Ty Cobb was the oldest of three children of father William Herschel Cobb, an educator, and politician, and mother Amanda Chitwood. Cobb developed a love for baseball at a young age. Cobb quickly became one of the best prospects in the sport and was right on the verge of his Major League call-up before tragedy struck him and the rest of his family.
One fateful August night in the year 1905, William Cobb, Cobb's father, was shot twice by his wife after trying to climb into the house through a window. Amanda Chitwood,  Cobb's mother, claimed to have mistaken her husband for a burglar. Rumors had gone around that William Cobb's wife was being unfaithful to her husband, and this may have been what prompted him to go in through the window, to catch his wife in the act. Amanda would be acquitted of all charges by an all-male jury.
Less than a month later, the Augusta Tourists (the Minor League team that Cobb was with at the time) sold Cobb to the Detroit Tigers.
When asked why he fought so hard, Cobb said, "I did it for my father, who was an exalted man. He never got to see me play [in the majors]. But I knew he was watching me and I never let him down."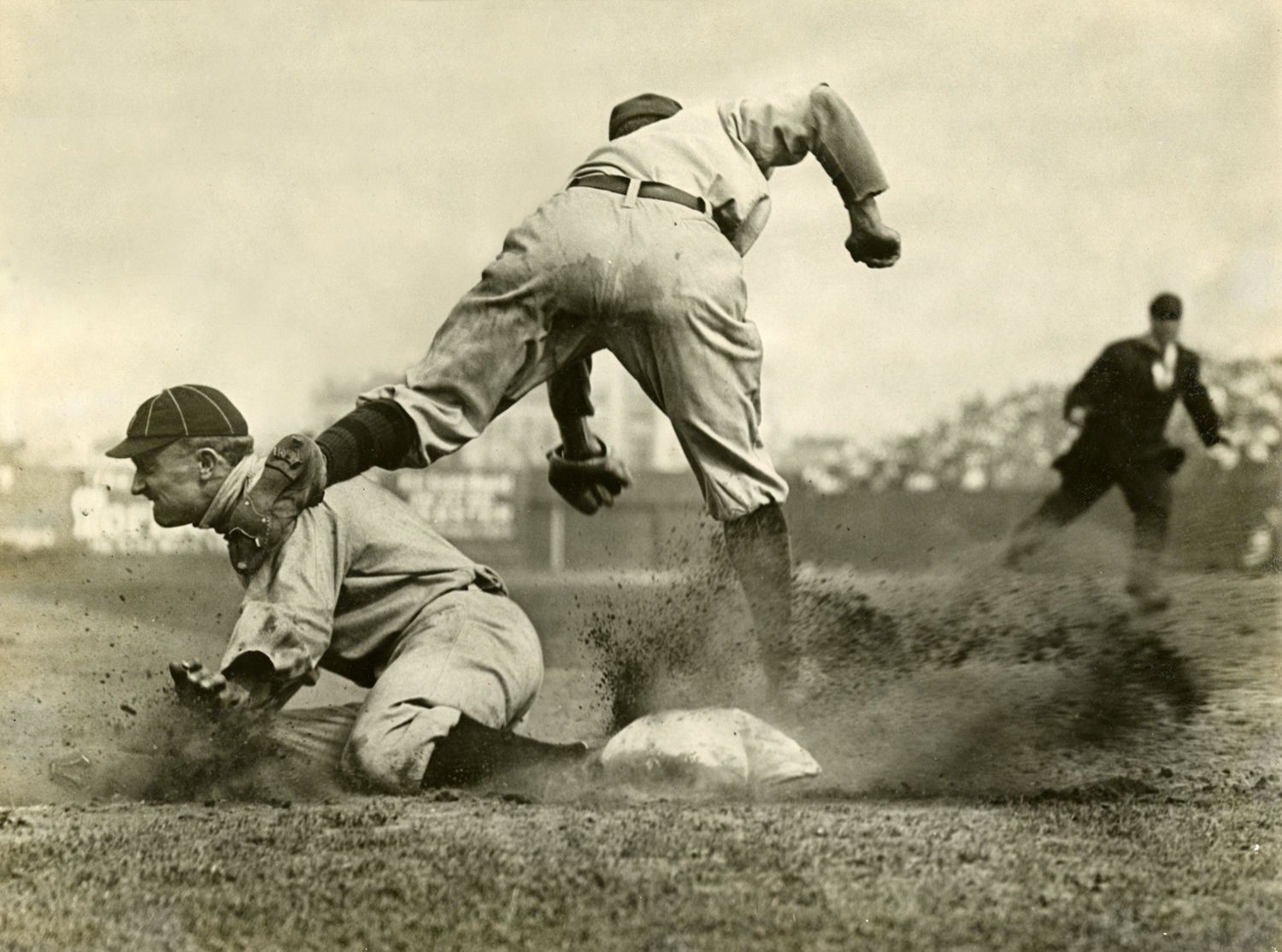 Cobb would finish out the 1905 season with a .240 batting average in just 41 games and would finish his 1906 season with a .316 batting average in 98 games. In 1907, Cobb won the first of 12 career batting titles after hitting .350 and for the next 22-years would put up some of the greatest numbers in Major League history. Ty Cobb played in the "Dead Ball-Era," a time in baseball where home runs were a rarity and a small ball playing style was used with every team. In this time, Cobb had no equal at the plate.
1911 would be Cobb's greatest season ever, in which he would hit an unbelievable .420 with 248 hits, 147 runs, 127 runs batted in. Cobb won the Triple Crown that year and would win the American League Most Valuable Player Award. Cobb would hit .300 or more 23-years in a row while hitting .400 or more three times. Cobb also set the all-time record with a .367 batting average, a record that no one ever has or will come close to. Cobb would finish his career after setting 90 Major League records, including the all-time hits record. Cobb was the first of two players to ever compile 4,000 hits in their career with Pete Rose being the second.
Ty Cobb was once asked by a reporter what he would hit if he played in today's game, to which Cobb responded by saying that he would hit "about .320". When the reporter asked why he would hit so low, Cobb responded by saying, "You have to remember, I'm 62-years-old."
During his career, Ty Cobb and Babe Ruth had an infamous rivalry that was based around Cobb's belief that Ruth was ruining the game while only swinging for home runs. The Great Bambino would once say, regarding Cobb, "Yes, he's a prick, but he sure can hit. God Almighty, that man can hit!"
During his time of superstardom in the league, Cobb was the most hated player in baseball. Known for his aggressive playing style both at the plate and on the basepaths, it has been reported that Cobb would sharpen his spikes before games in order to inflict as much pain on his opponent as possible. Cobb would scare infielders and even catchers, who knew that if Cobb was coming in, they were in big trouble.
Cobb was not a lovable figure with the fans either, with one reporter once saying, "It looks like he doesn't like the human race."
Heinie Manush, a Hall of Famer, once said, "I couldn't like him as a man. No way. He ran things like a dictator. But as a teacher, he was the best."
Grantland Rice once said that Cobb was "An extremely peculiar soul, brooding and bubbling with violence, devious, suspicious and combative all the way."
"The cruelty of Cobb's style fascinated the multitudes, but it also alienated them. He played in a climate of hostility, friendless by choice in a violent world he populated with enemies … He was the strangest of all our national sports idols." Richard Cannon would once say, "But not even his disagreeable character could destroy the image of his greatness as a ballplayer. Ty Cobb was the best. That seemed to be all he wanted."
Hall of Famer Sam Crawford once said, "He came up with an antagonistic attitude. Any little razzing [was turned] into a life-or-death struggle. He was still fighting the Civil War. We were all damn Yankees before he even met us."
"I had to fight all my life to survive." Cobb would go on to say, "They were all against me… but I beat the bastards and left them in the ditch."
Ty Cobb was elected to the National Baseball Hall of Fame in the first ever class in 1936 along with Babe Ruth, Honus Wagner, Walter Johnson, and Christy Mathewson.
"The greatness of Ty Cobb was something that had to be seen, and to see him was to remember him forever," said fellow Hall of Famer George Sisler.
"I never saw anyone like Ty Cobb. No one even close to him. He was the greatest all time ballplayer. That guy was superhuman, amazing," said Hall of Fame manager Casey Stengel.
In his retirement, Cobb was a very wealthy man as a result of him beginning to invest early in his career and becoming a millionaire buying stock in Coca-Cola and United Motors (now General Motors). Despite his fame, Cobb's family life was nothing to brag about as Cobb was divorced twice while having five kids.
Tyrus Raymond Cobb died quietly on July 17th, 1961. Cobb's family had a private funeral service at which just a small handful of former players attended along with some Detroit Tigers representatives.
While Ty Cobb may not have been a great person or a good role model, Cobb overcame a life-altering tragedy and despite it, became the greatest hitter of his day and one of the greatest of all-time. While you don't have to like Ty Cobb (few people that knew him did), you do have to respect his incredible work ethic and drive to be one of the greatest players who ever lived.
"Ty Cobb is one of the great natural forces of Baseball. He is testament to how far you can get simply through will." ~ John Thorn